A kids table and chair set is an absolutely essential item for a house full of children!
From toddler years to becoming a teenager, they will use it all of the time… for hours of drawing, homework, kid's dinners and playtime. It's a constant hub of activity and keeps them away from the kitchen table which is my zone!
When it comes to choosing a desk and chairs, it's important to think about size and style.
Does one size fit all? Will your toddler and your six-year-old fit the same table height?
We've had a little desk with vintage chairs and a mini bench in our home since the children were very little. The desk has been the perfect height for them since they were 1-year-old, is still used by my seven-year-old, and I think will probably be fine until he's eight or even nine!
The desk is 53 cm high x 86 cm wide and the chairs are 30 cm high. The additional bench is 27 cm high and both have done the trick for a long while. However, as the children have grown they've asked for a desk in their bedroom and it seems now is the right time to move to a larger size.
So, on the quest for a desk I've rounded up the best from Temple & Webster which has a wide range of kids table and chair styles to suit any décor.
These are split into Small Kid's Tables and Large Kids Desks based on the average size of my clan.
Small to Medium Kids Tables & Chairs – Aged 1 to 8
VINTAGE LOOK
I have to say this ticks all the boxes for me. I love the vintage look of this steel table with stackable chairs.
H: 50 cm.
WHITE
A white, square table and chair set that will simply go with any decor, the Aspen is suitable for 3-8 yr olds.
H: 48 cm. 
BRIGHT
The sunny yellow 'boss' table and chair set is one of the most popular designs in the market for good reason. Made of solid timber with a high gloss finish it's also available in natural, blue, green and red.
H: 55 cm.
STORAGE
Can you ever have enough storage with kids? This practical set comes with colourful storage tubs to keep things neat and tidy. Style tip... swap the tubs for woven baskets to change up the look.
H: 56 cm.
Large Kids & Teen Desks – Aged 7+
CLASSIC
Made of classic acacia hardwood timber this teen study desk set comes with a handy drawer.
H: 70 cm.
WHITE
If space is an issue then this foldable white desk set is perfect with both timber table and chair folding away easily!
H: 70 cm.
Kids Table and Desk Accessories
Now on to the fun part of accessorising! I'm a clutter-free fanatic and you can get really creative with styling your kids desk to create a cute little nook they'll love. Add these items to your kids desk to create a fun space for them to play and keep clutter to a minimum!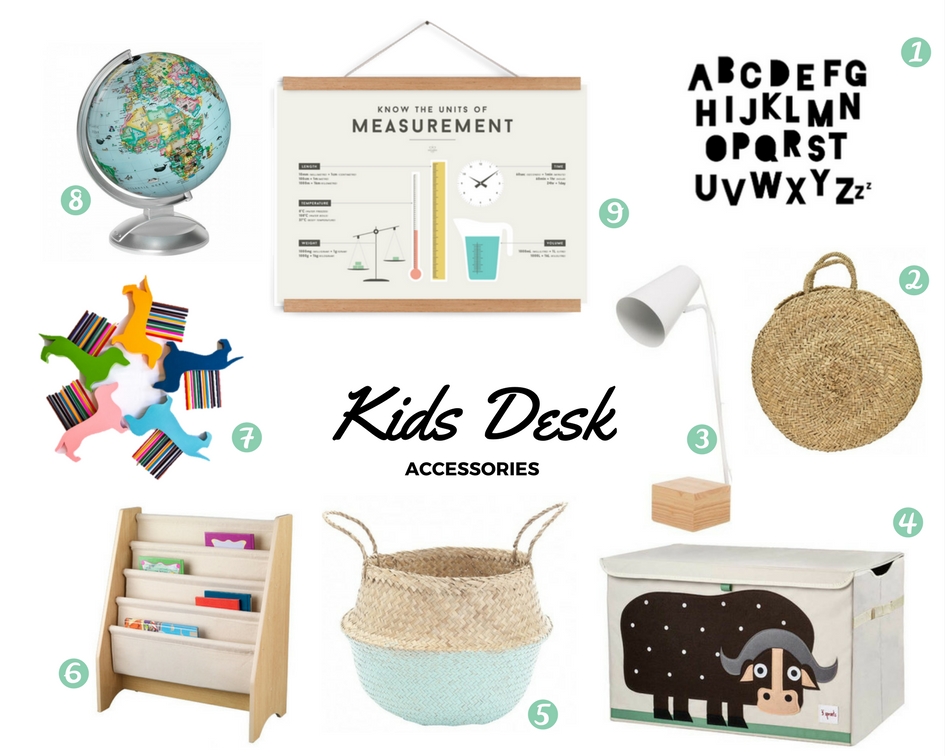 For more great kids furniture head to Temple & Webster 
All lifestyle images of kids desk and chair inspiration from Pinterest. Sources as follows: Top image Mommodesign.com; Second image Regardsetmaisons.blogspot.com; Third image Bureau source unknown; Fourth image diyncrafts.com; Fifth image Mommodesign.com