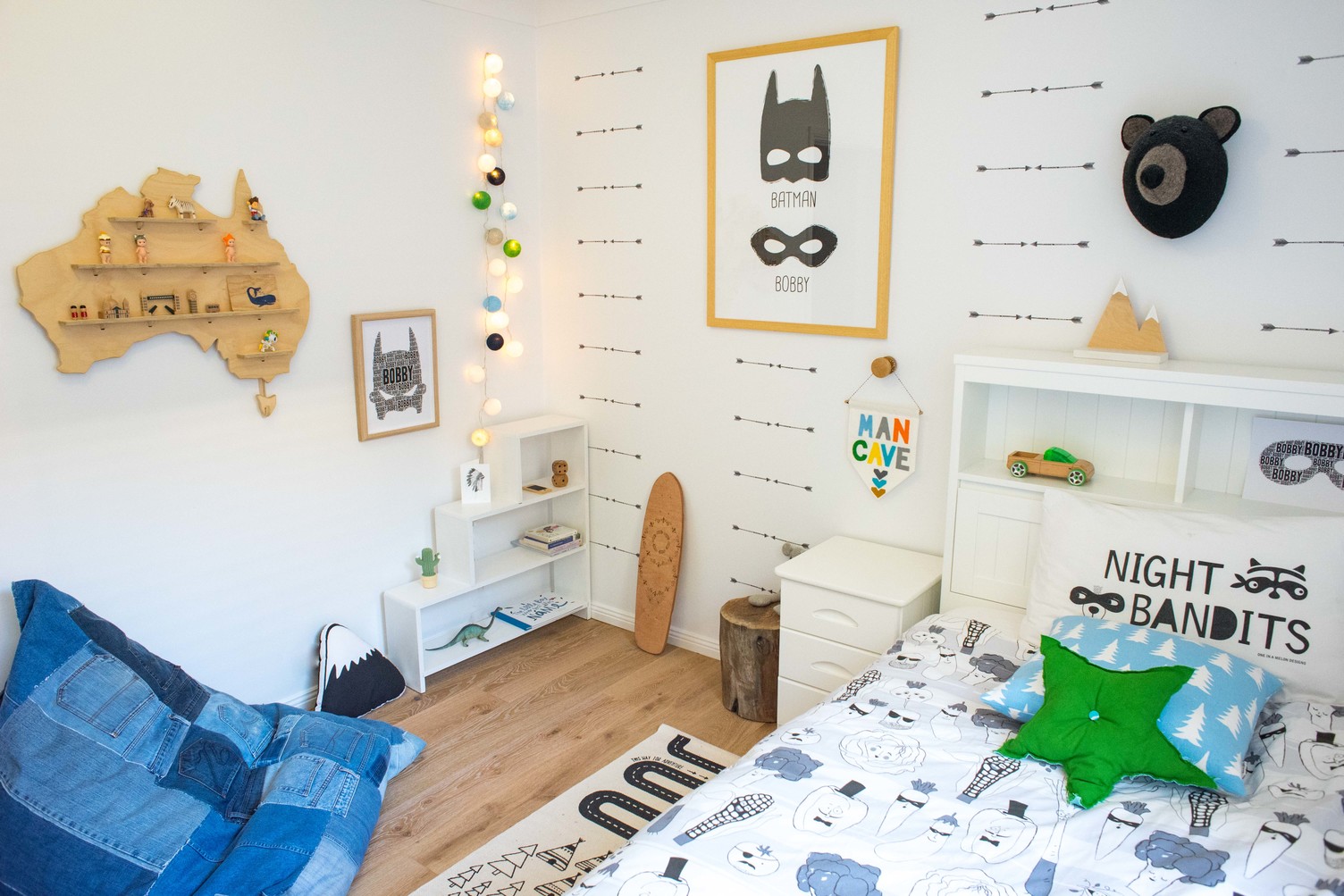 Don't you love a good kids bedroom makeover and 'before and after' room reveal?!
This little boy's bedroom went from beige and cluttered to bright and Scandi. Bobby and his Mum now love spending time in there!
The only thing they wanted to keep was his bed and bedside table. Otherwise I had free reign to make it lighter and create more space.
The bulkhead
Although the bulkhead was crying out to be utilised, you can see from the images that with the bed in that position it limited space. There was not much room to move as the walls were taken up with bed or doors.
So even before the design began, we moved the bed to the side along the window. This immediately opened up the room and gave Bobby more play-space.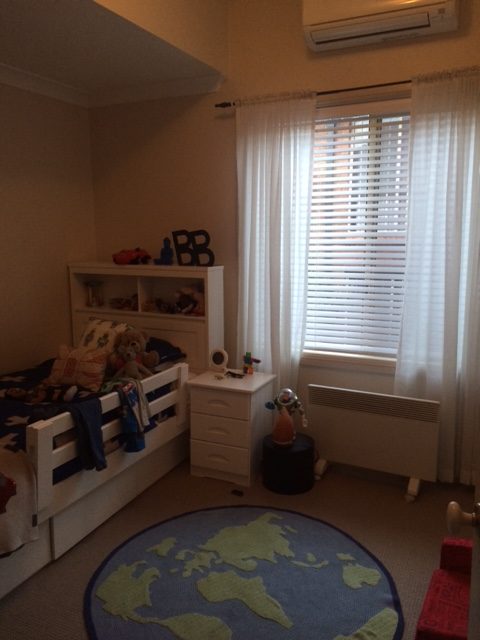 Before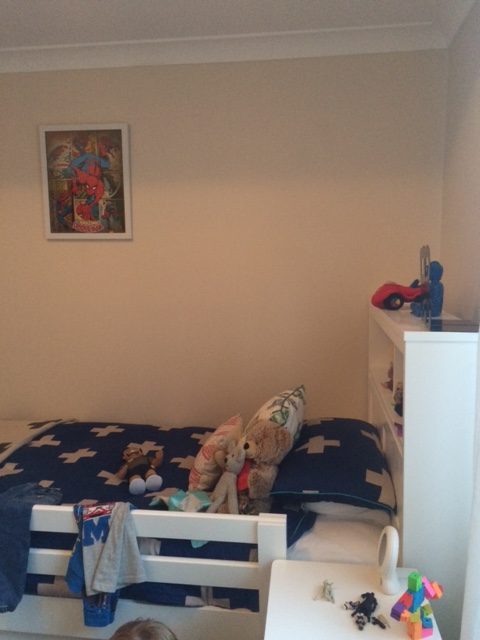 Before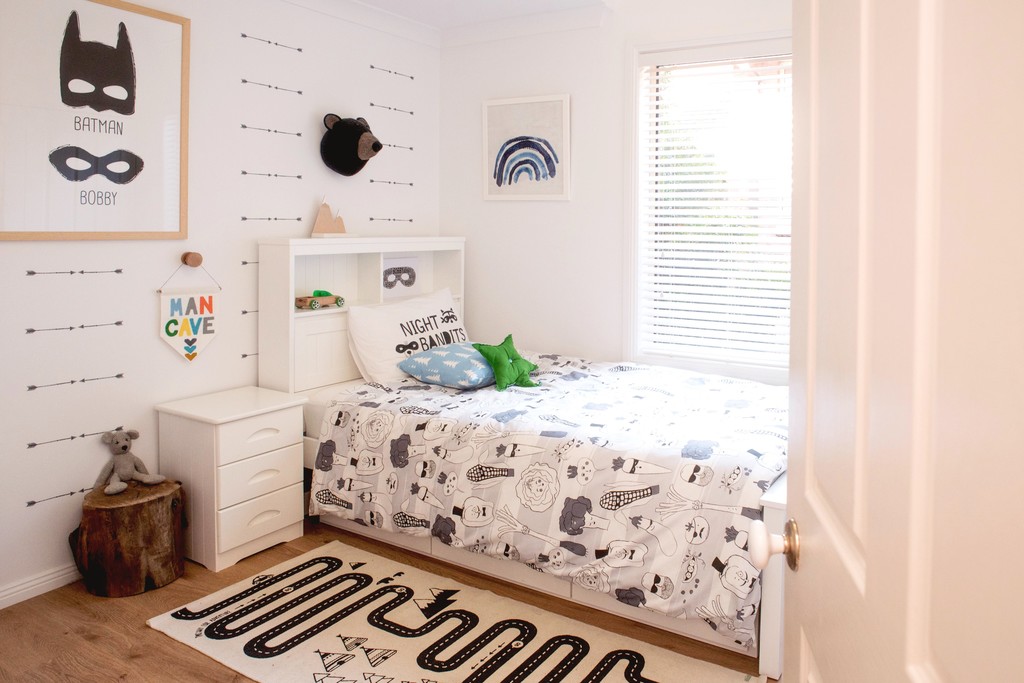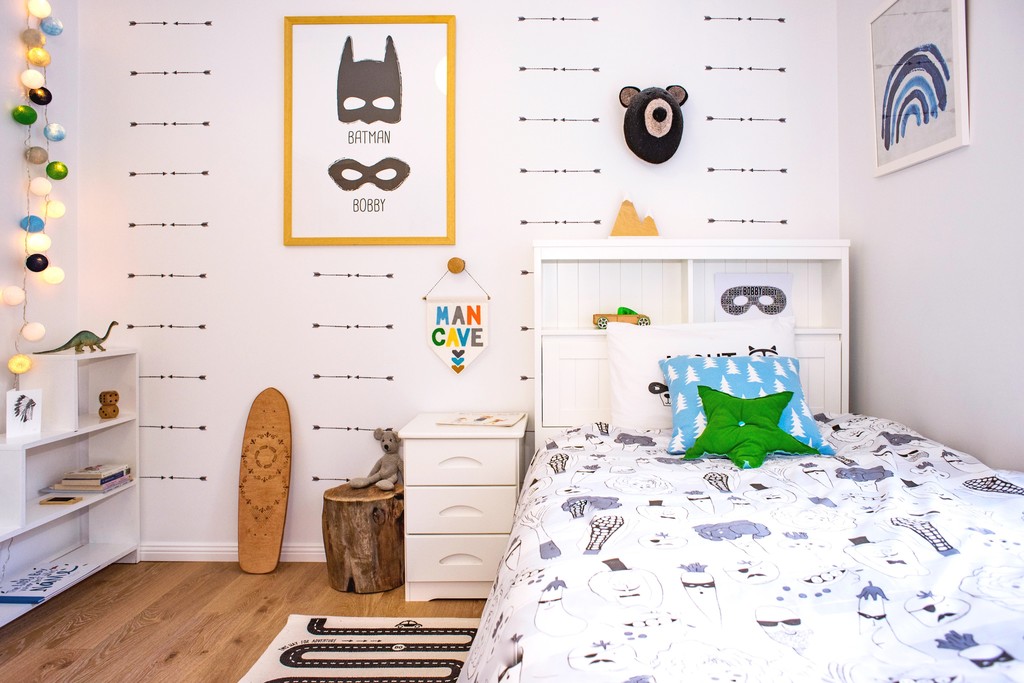 No more drab
The carpet and paint colour had to go! Instead the walls, doors and trims were coated in Dulux Lexicon Half and the talented boys from Structure Building installed engineered oak floorboards from House of Bamboo.
With the neutral base the fun could begin!
I think my favourite addition to the room has to be the Love Mae fabric wall stickers which were purchased from Lilly & Lolly. 
Many other beautiful items such as the Fiona Walker bear head, Fine Little Day rainbow poster and Gran cushion cover, Sketch Inc wall hooks (used as door handles) and OYOY adventure rug are all from the amazing Leo and Bella.
The green star cushion by Soda & Stitch added the perfect pop of colour.
Our local store and one of Bobby's faves, Love By Five supplied the 'To The Moon & Back' banner (on the wardrobe doors) as well as the black & white star and they are the exclusive distributor of Sack Me! bedding in the Shire.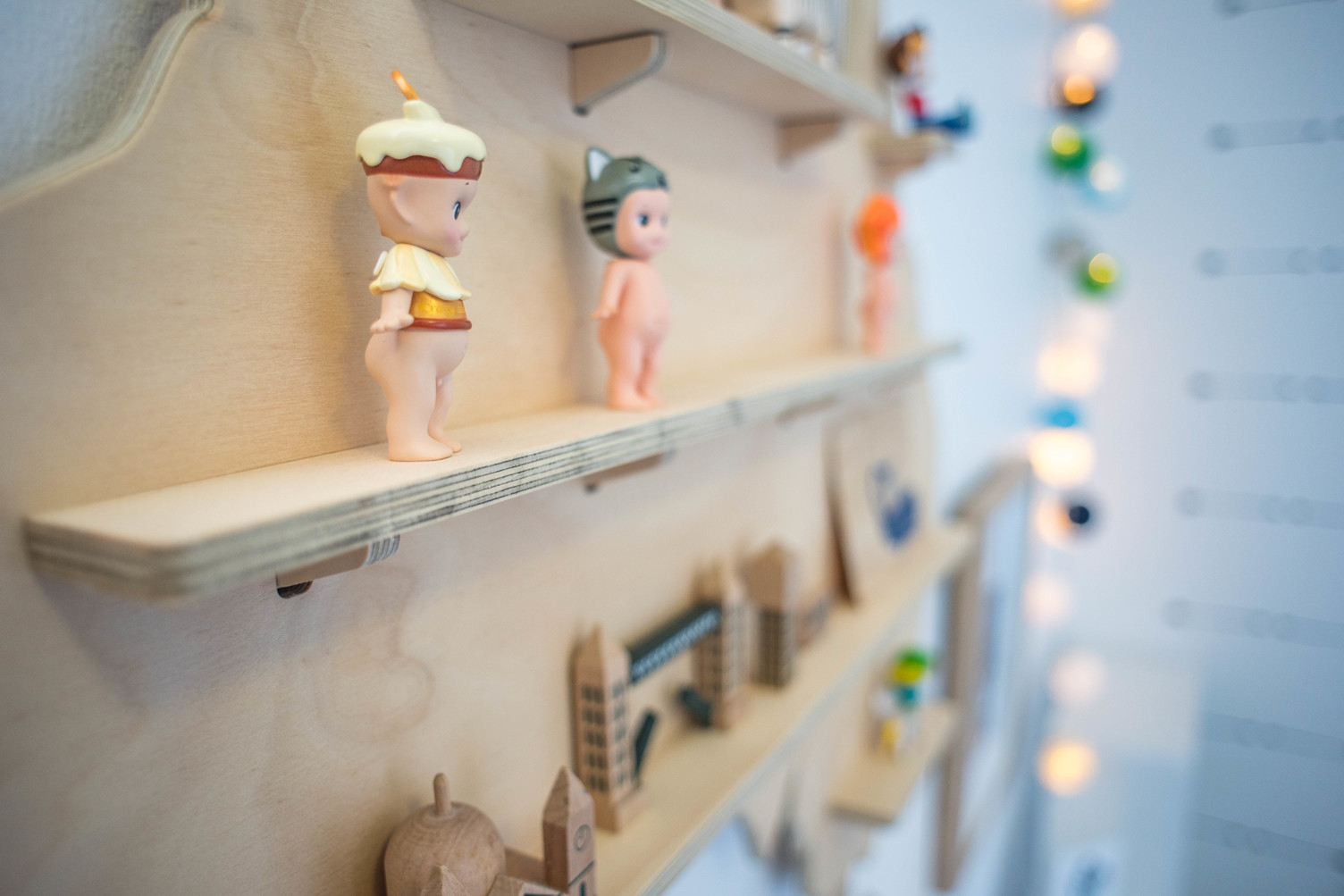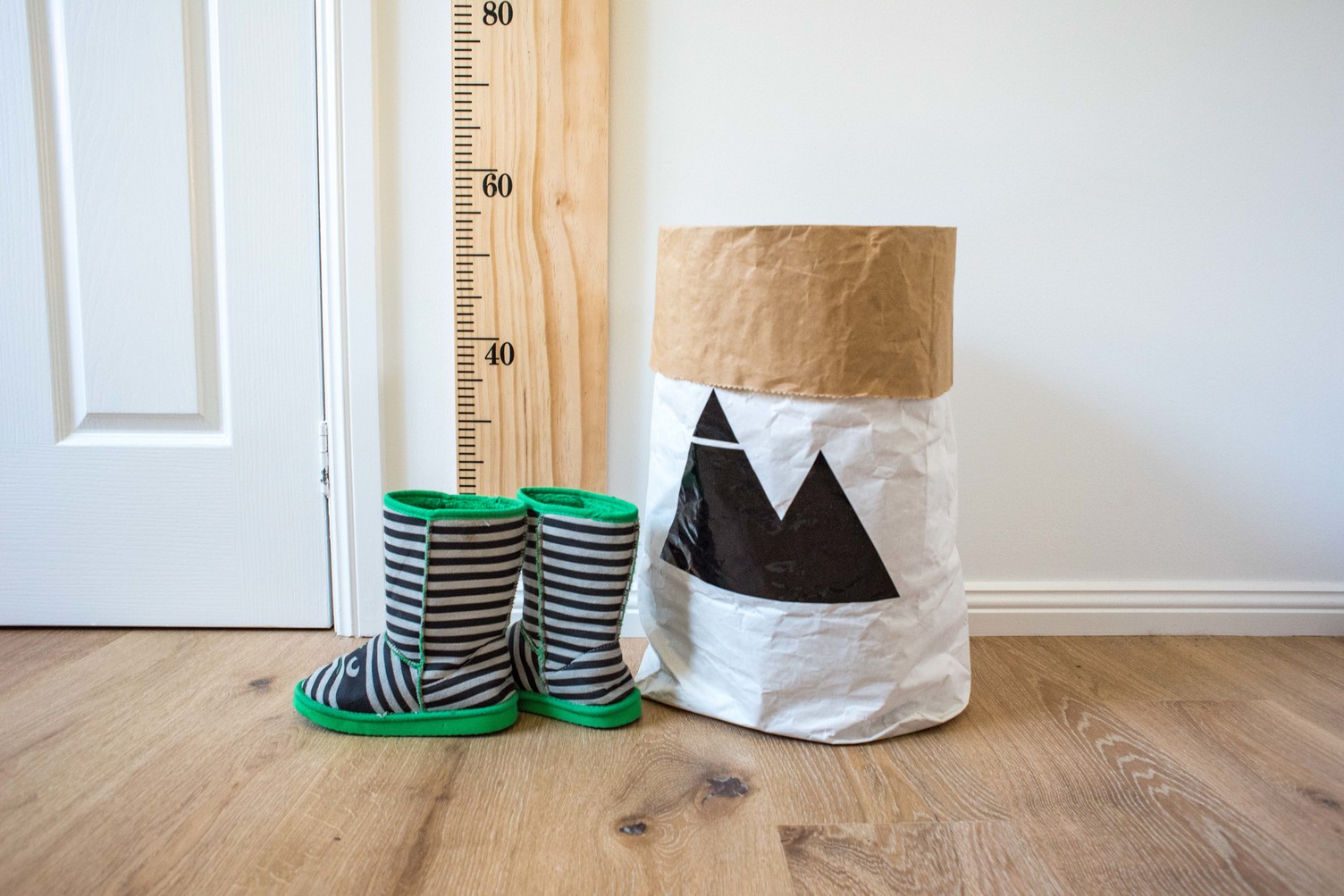 Handmade & recycled
Some lovely handmade, handcrafted products help to give it the Scandi feel and support small business:
The simply perfect 'My Treasure Board' shelf by One Two Tree - it was great to see how Bobby had all his precious little things on there
The quality timber height chart I had custom designed by Milly And George Designs
A beautifully engraved skateboard deck by Kippy Skateboards
A piece from my TUBU Kids custom furniture range - a retro 1970's Danish bookshelf revamped for its new home
Our love of recycled and re-used was taken to new levels with the generously-sized JEANBAG, transforming denim jeans into reading nook heaven
My go-to for handmade wall decor, the lovely Little Olive & Co 'Man Cave' banner.
Personalised
Kids adore having personalised stuff in their rooms so I chose a bold custom 'Batman, Bobby' print from Meeny Miny and 'Name It' prints by Happy Ella After.
Lighting
The main pendant light and corner lights are both from Lummi+Co - I screen-grabbed lots of different colours and positioned them in a design board to ensure they worked! Love these lights for children's rooms, or anywhere for that matter!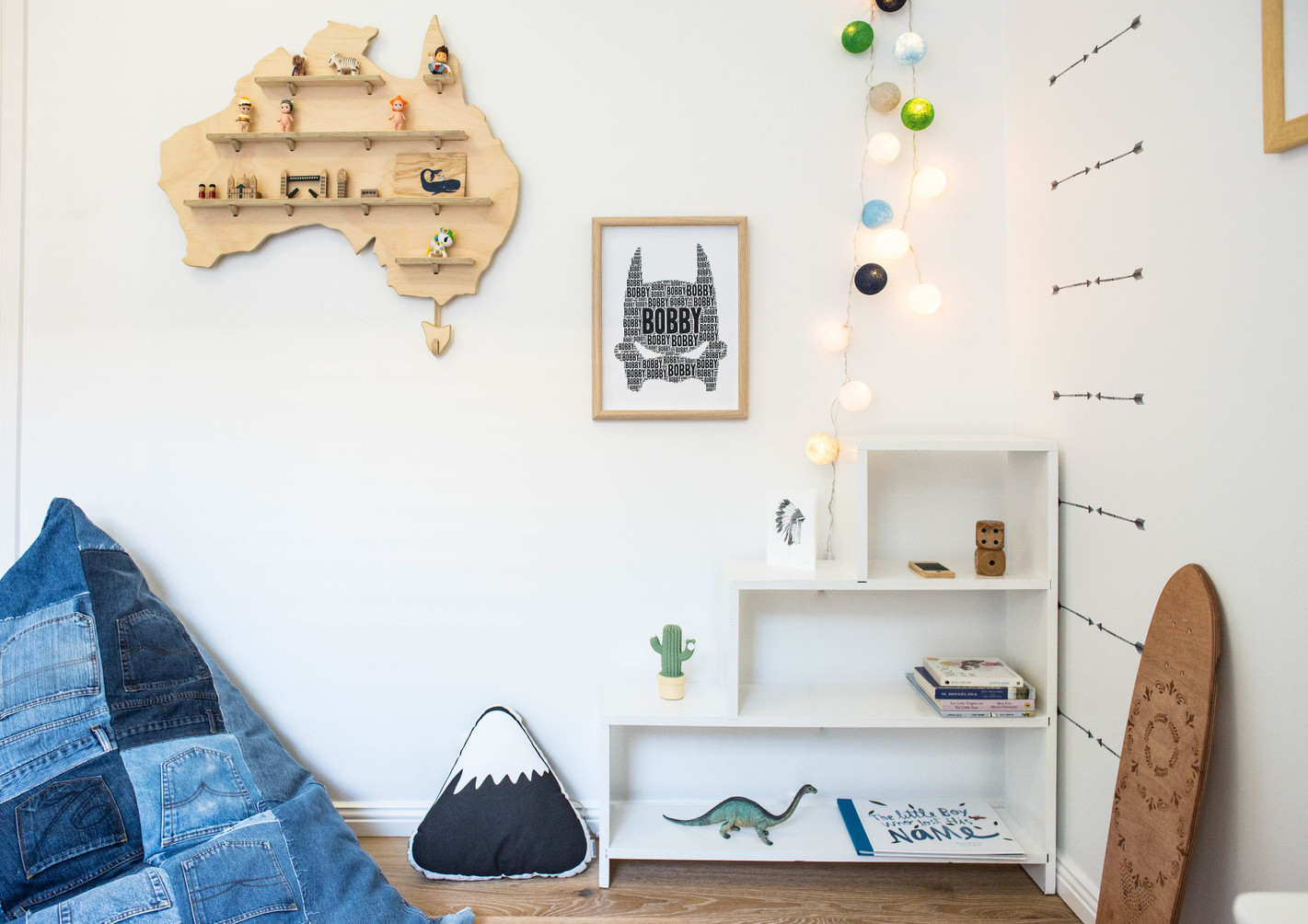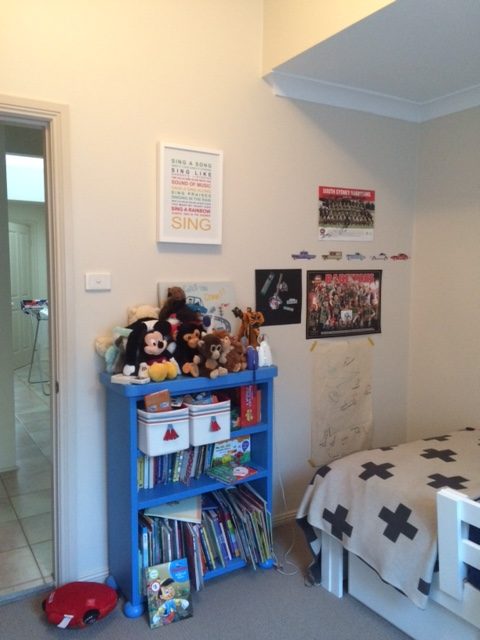 Before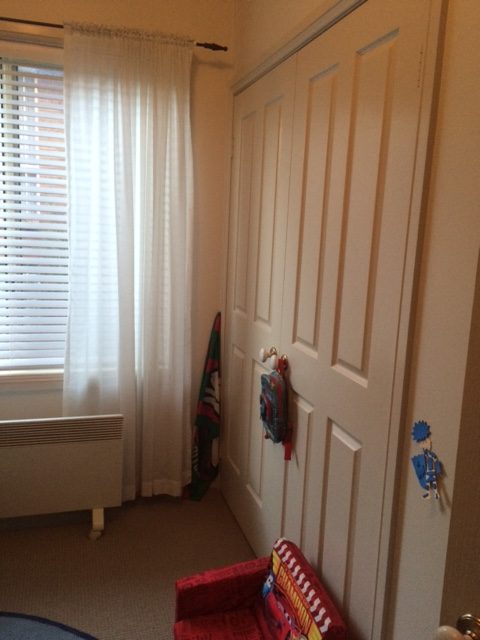 Before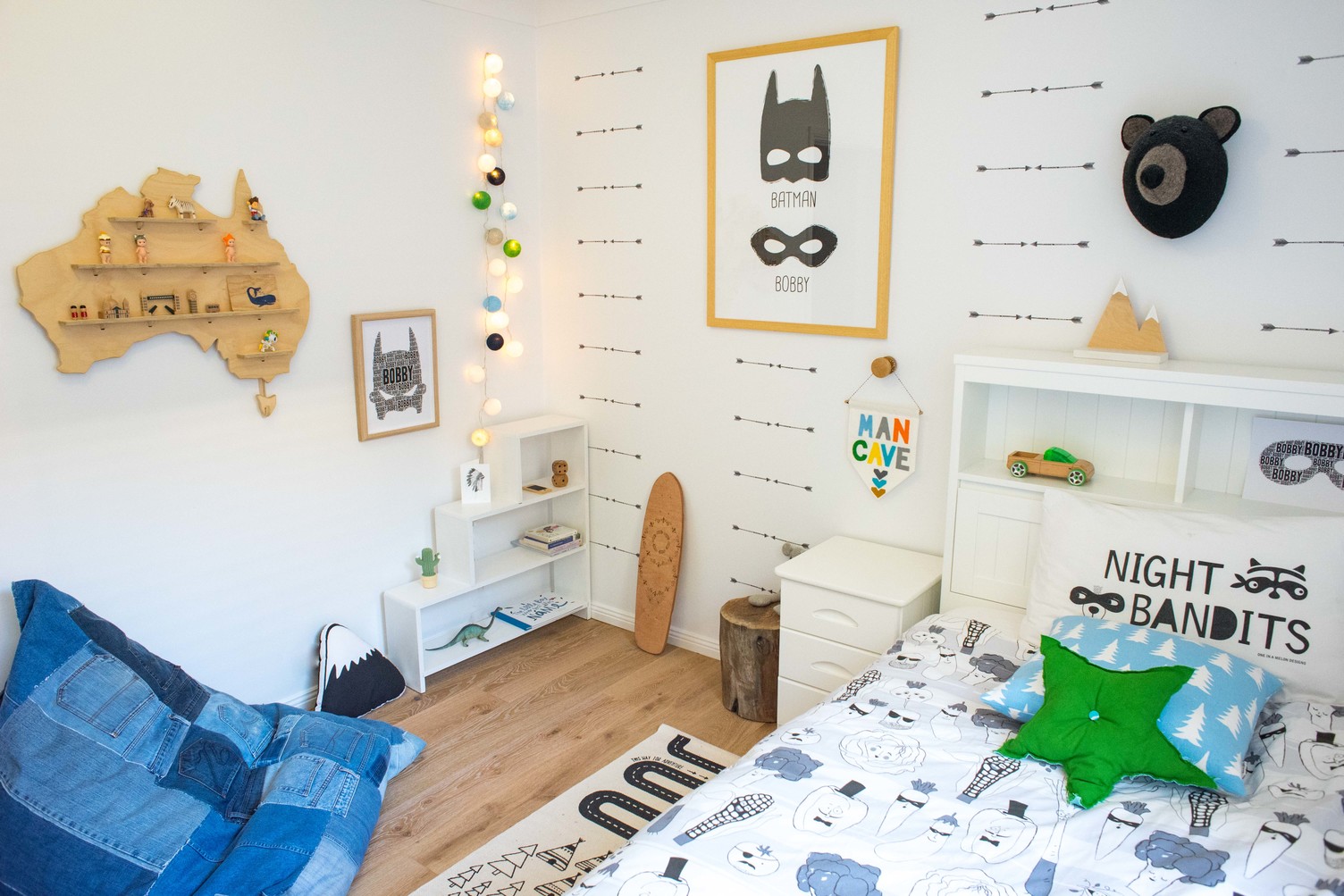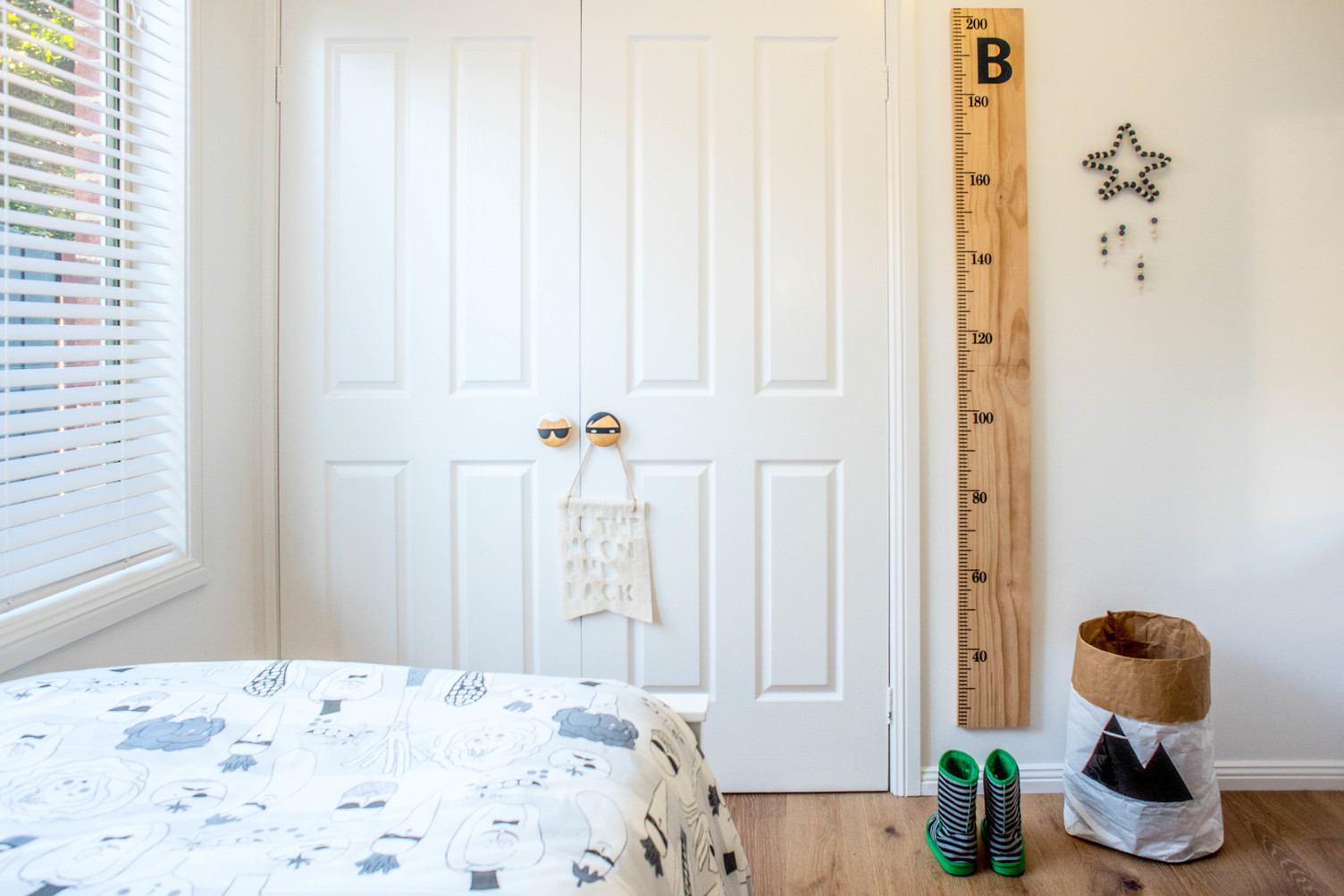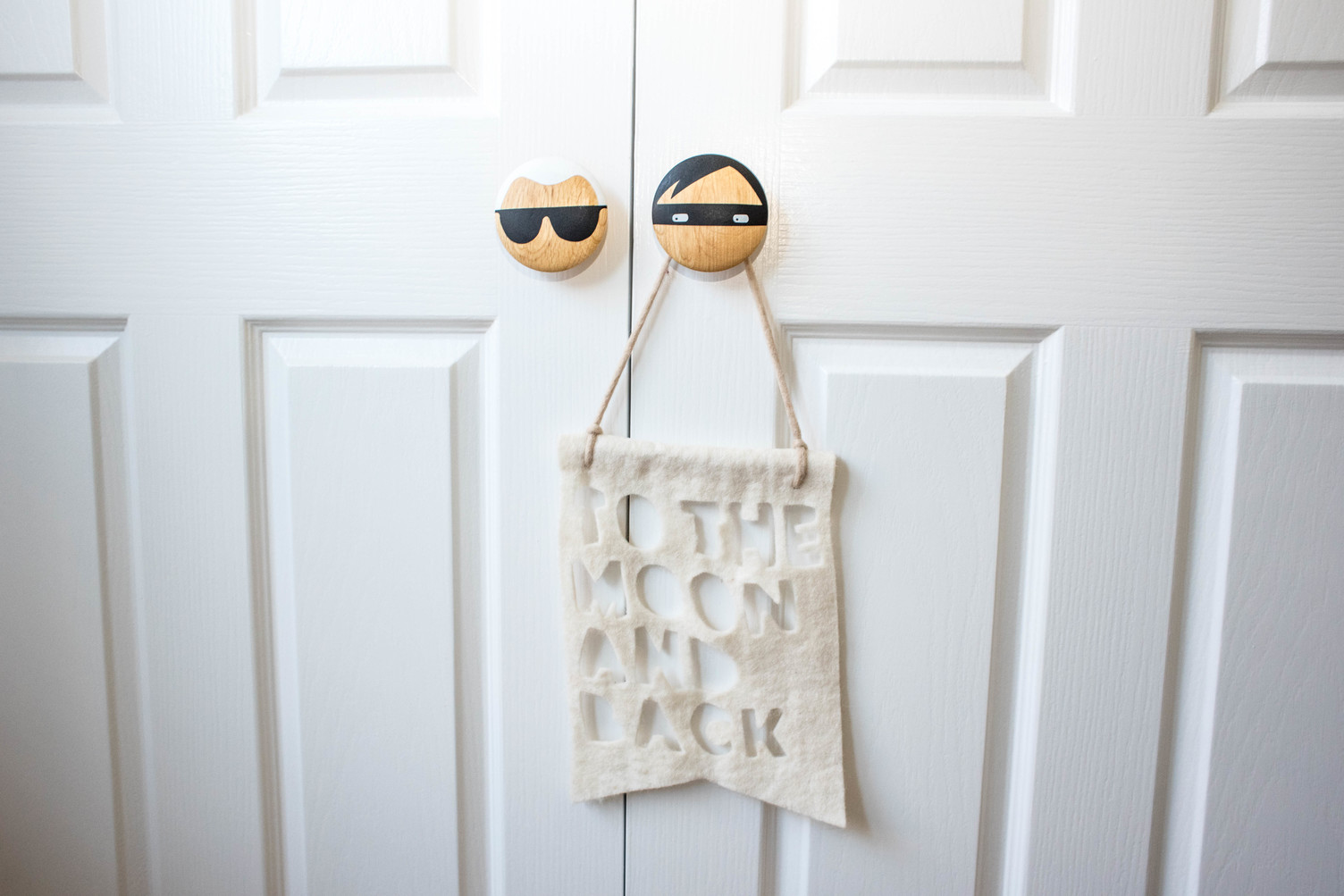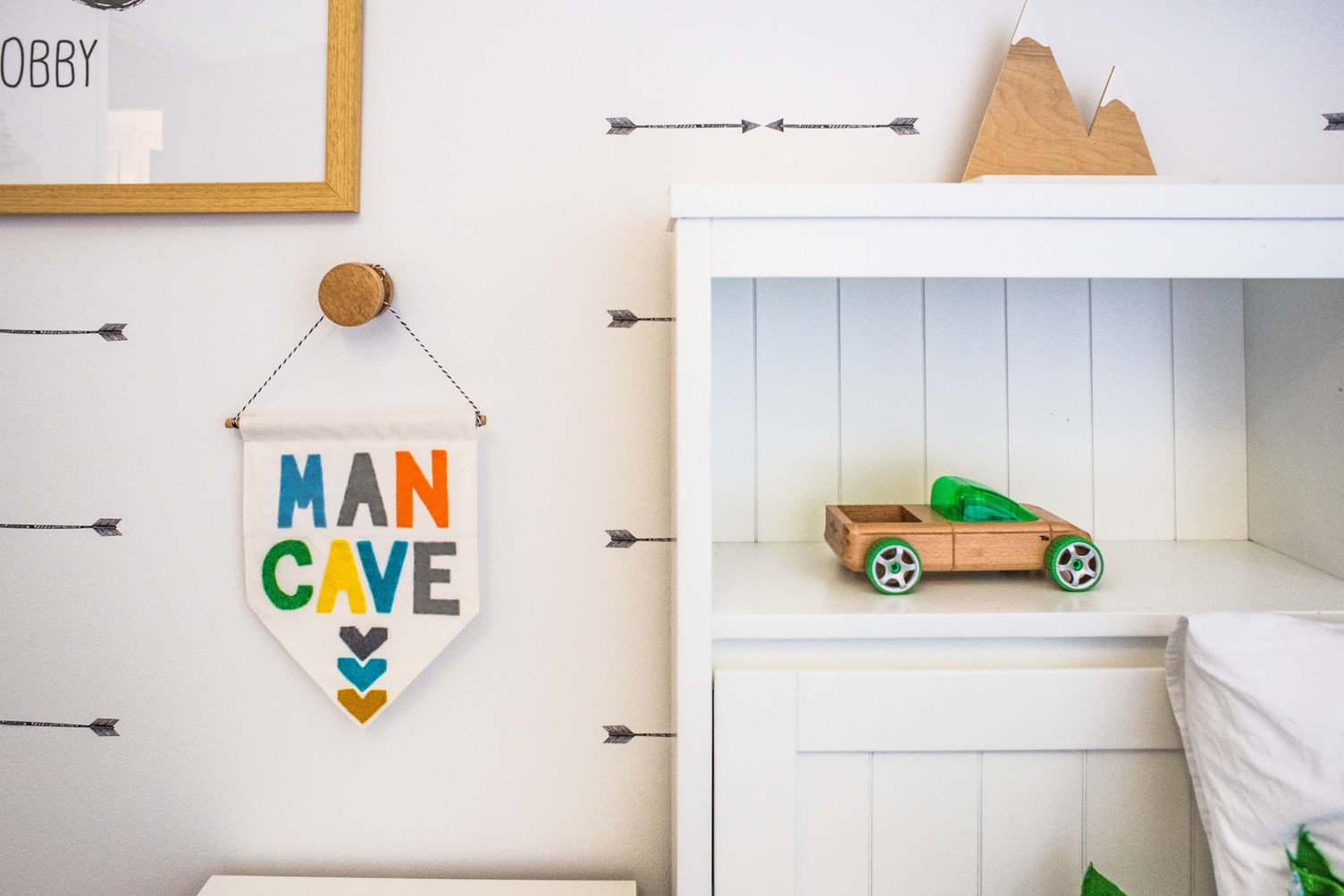 Some teepee fun
I couldn't resist changing up the look with the teepee from Banana J Creations which was part of his playroom makeover. It looked divine with the sheepskin rug and attracted the equally fluffy British Short Hair into the shot.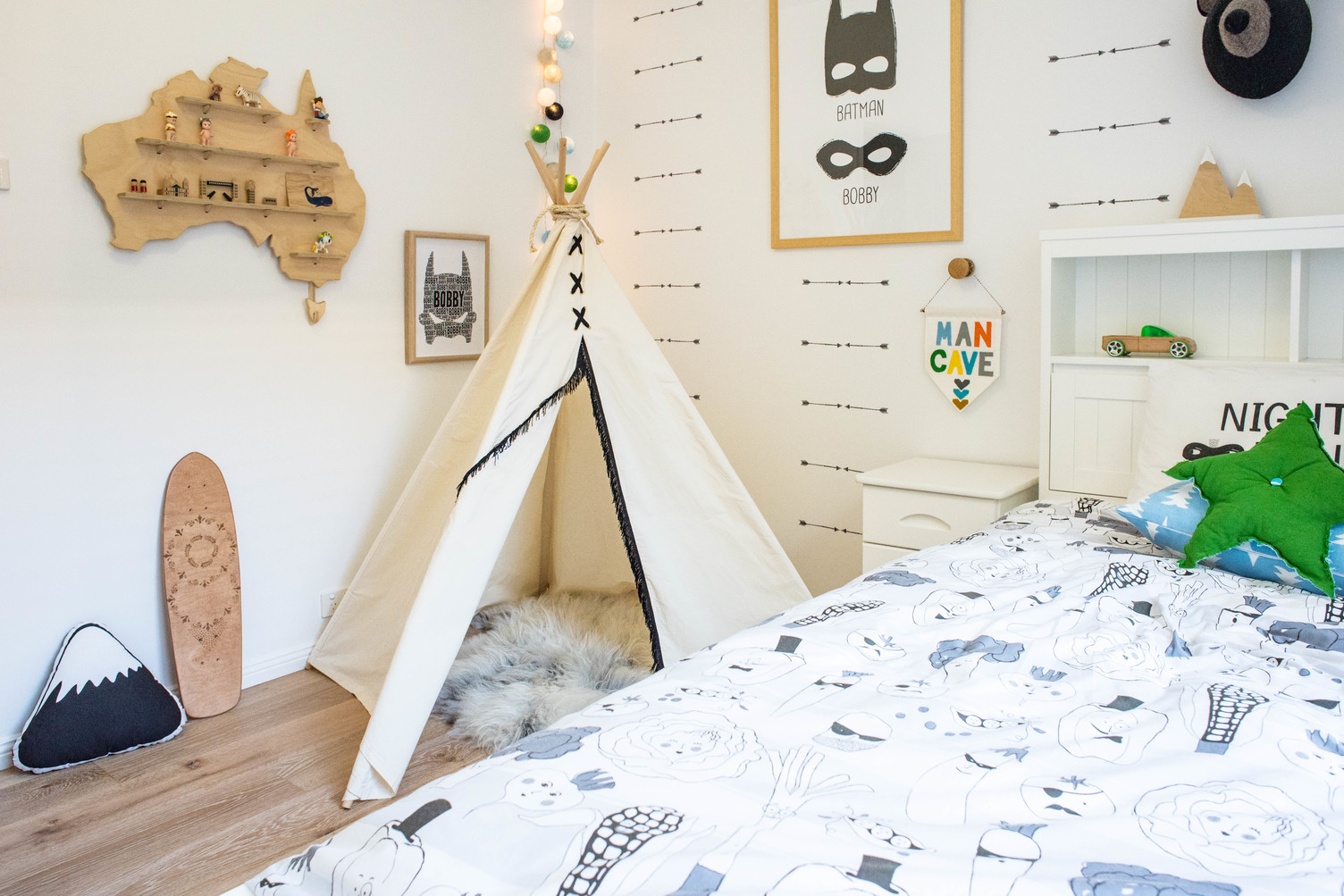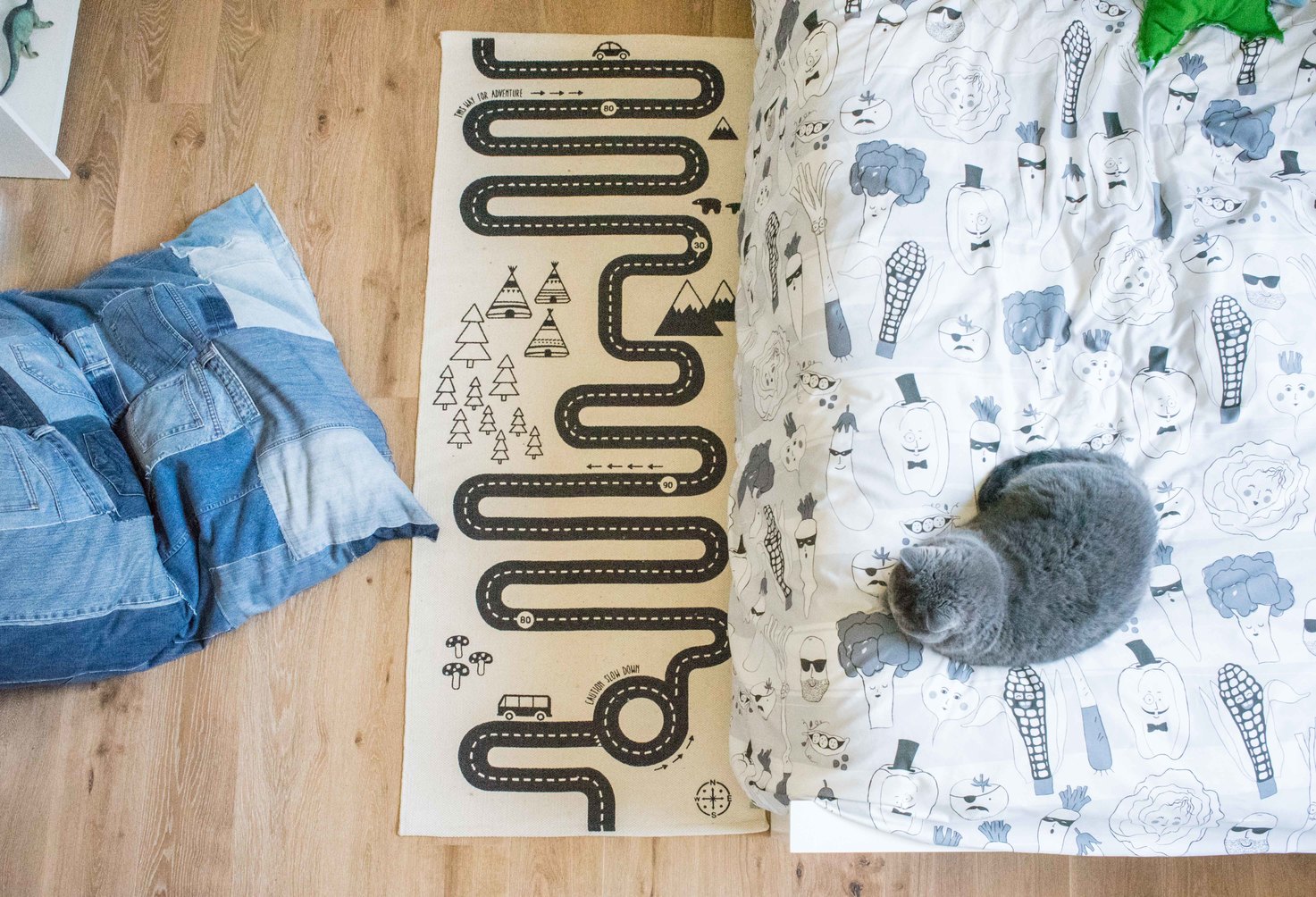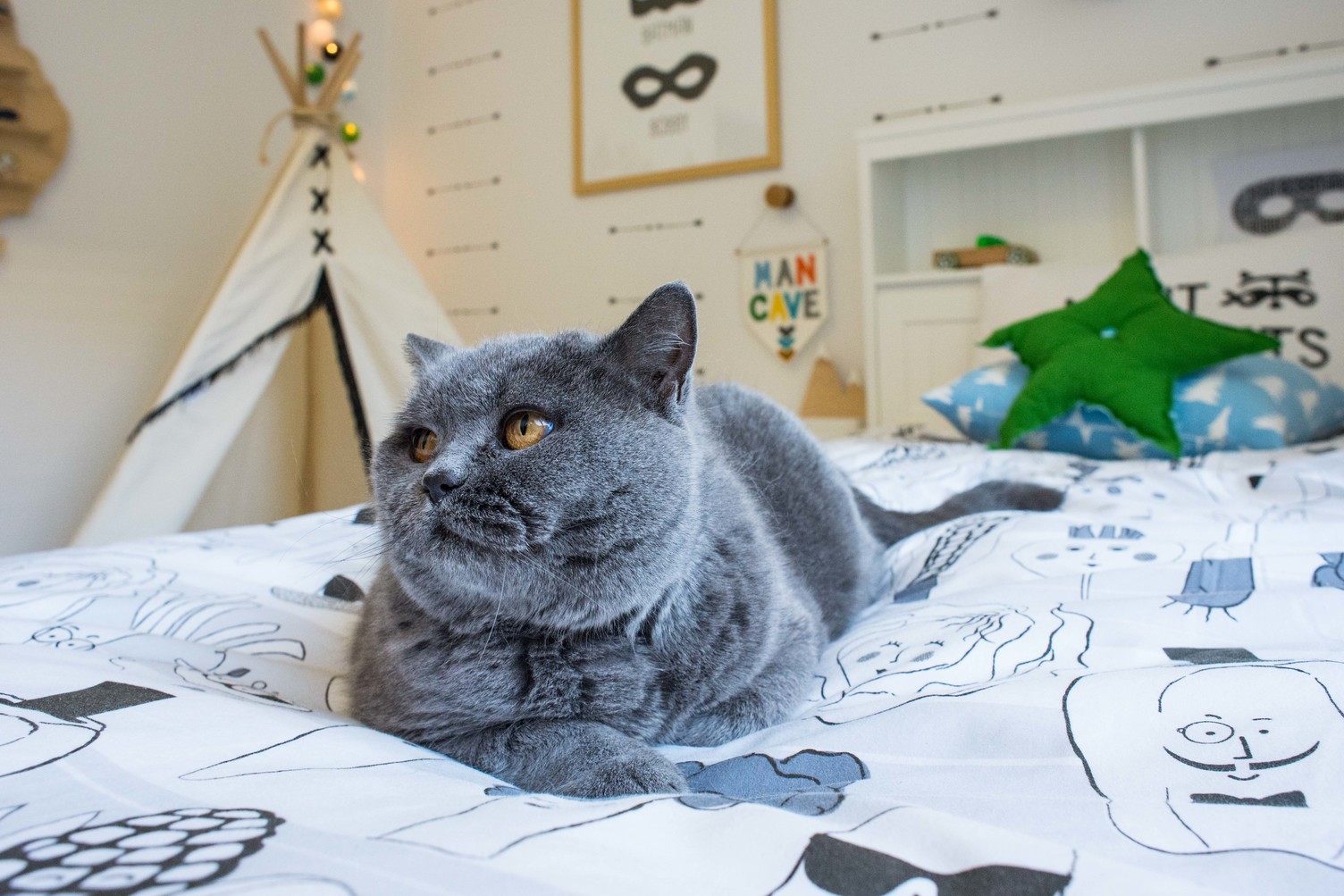 So, what did Bobby's Mum think about the makeover?
"Bobby and I enjoyed working with TUBU Kids so much. We both shared with her what we liked and she came back with a mood board that I could only dream of.
Each prop Cathy suggested was unique, super cool and showcased Bobby's personality perfectly. When I'm lying in bed reading Bobby his nighttime story I look around his room and I'm just thrilled with his perfect 'out of a magazine' room!!"
I hope you've enjoyed this kids bedroom reveal and thanks to Fleur for generously allowing the sharing of all the products.
If you're keen on seeing how I can change your child's space, contact me for a chat - I'd love to help!
---
Words and styling: Catherine, TUBU Kids
Photography: David McGowan